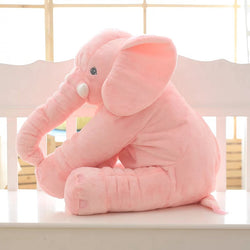 Elephant Soothing Plush Pillow
So cute and huggable, this adorable plush elephant is ideal for babies, toddlers and children of all ages. Even adults who are kids at heart are sure to fall in love! It makes the perfect prop for baby's month to month photo shoot and looks delightful when displayed in the nursery room.

This Adorable Elephant Plush Toy Pillow makes a perfect baby shower gift, birthday present or keepsake and is available in an array of soft, lovely colors!
Size: 60cm ( 23 inches)
Material: 100% cotton
Care instructions: Machine wash, warm 104 F (40°C), delicate cycle. Do not bleach. Tumble dry, low temperature. Do not iron. Do not dry clean. Hand wash and sun dry is recommended.
Beautiful and irresistible gift
Elephants are one of the mostcomforting and gentle animals on the planet.Although they're giants, they're incredibly kind and compassionate.
Surround your baby with the positive energy these giant gentles provide with an elephant plush pillow. Large enough to provide your baby with something tohug and holdduringphoto sessions. Our comfy elephant plush pillows are thenext best form of comfort for your little one (apart from its parents of course).